BRIEF
Digital marketing agency Generate UK approached us to create a video for Feedback Ferret, a company specialising in transforming customer feedback comments into actionable insight.
Our brief was to produce an engaging, educational animated explainer video about what they offer and how they can help their target audience. The 60 second animation would need to outline the problem of dealing with too much feedback data, whilst highlighting the need for a better, more streamlined solution in an easy to understand, stylish way.
SCRIPT
Working alongside GenerateUK we initially produced two completely different options for a script which gave the client two completely separate approaches to explore. Although completely different in terms of tone and style, the core of the story had a similar structure. The beginning: to set the scene, face problem/s and ask questions. The middle: If only there was a way we could change this? The end: Feedback Ferret can help and here's why! Following notes from Feedback Ferret we reshaped and remoulded the script several times into something we were all happy with.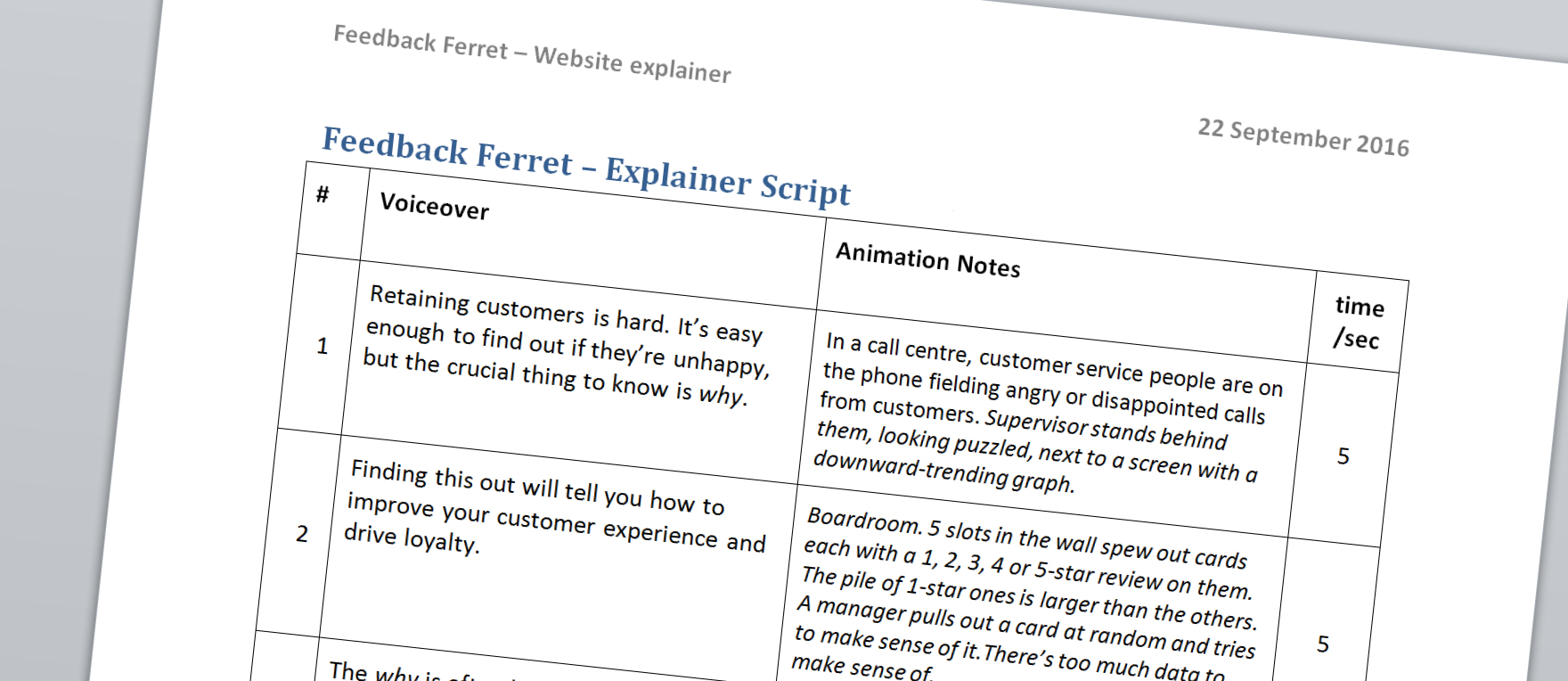 INSPIRATION AND STYLEBOARDS
Feedback Ferret shared a variety of videos with us that inspired them. We took the time to understand what they liked about each video and compiled a styleboard filled with sample screenshots. We would use this as a reference point when designing the creative assets, a selection of which can be found below.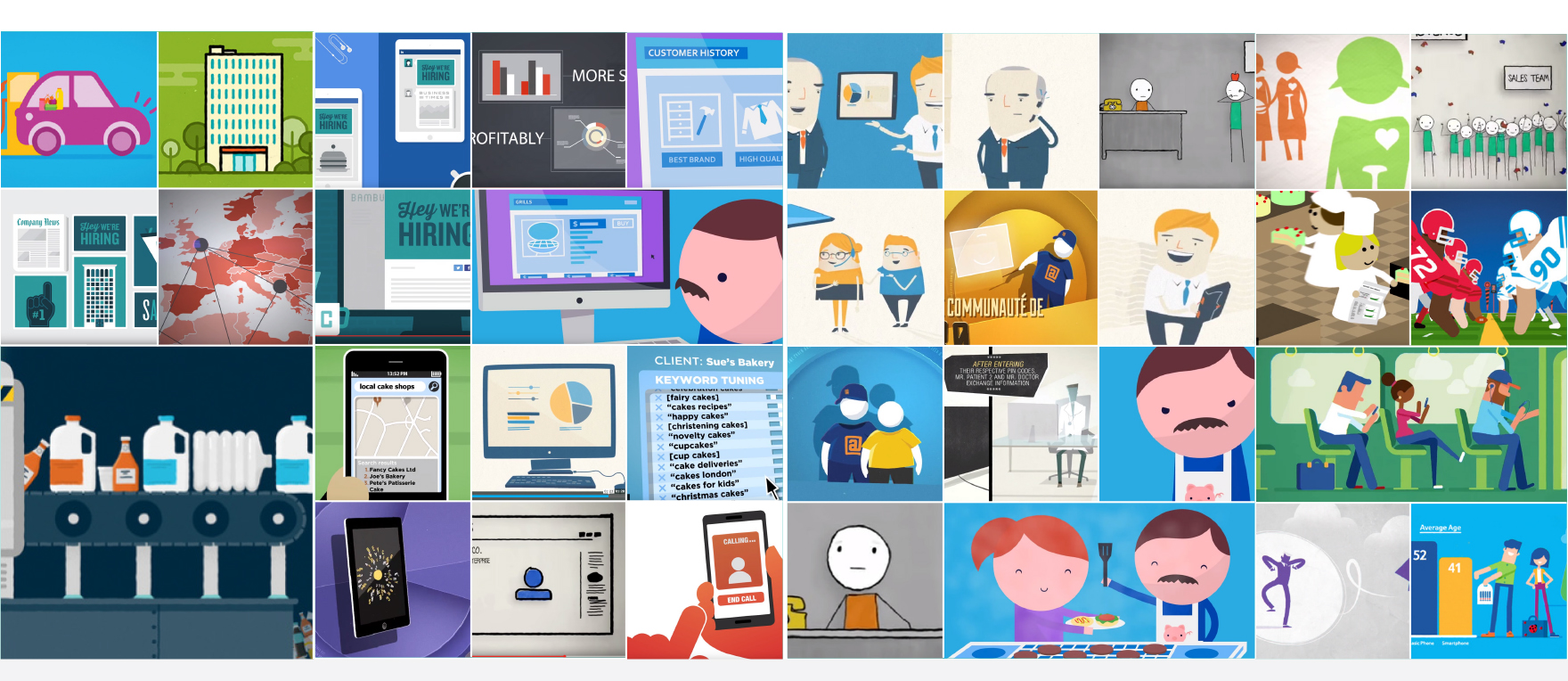 STORYBOARDING
After starting to develop the style, we moved onto the storyboarding phase to bring the script to life. We decided to keep the storyboards basic to allow for quick, iterative updates, allowing the flow of the storyboard to be updated easily following any client feedback. We knew that the animation was going to be created in 2.5D and so it was advantageous for us to bear this in mind whilst planning, ensuring that we knew how this might work in each scene. To create the storyboards we used the Boords app, produced by Animade, an easy to use app that makes storyboarding a lot simpler and quicker.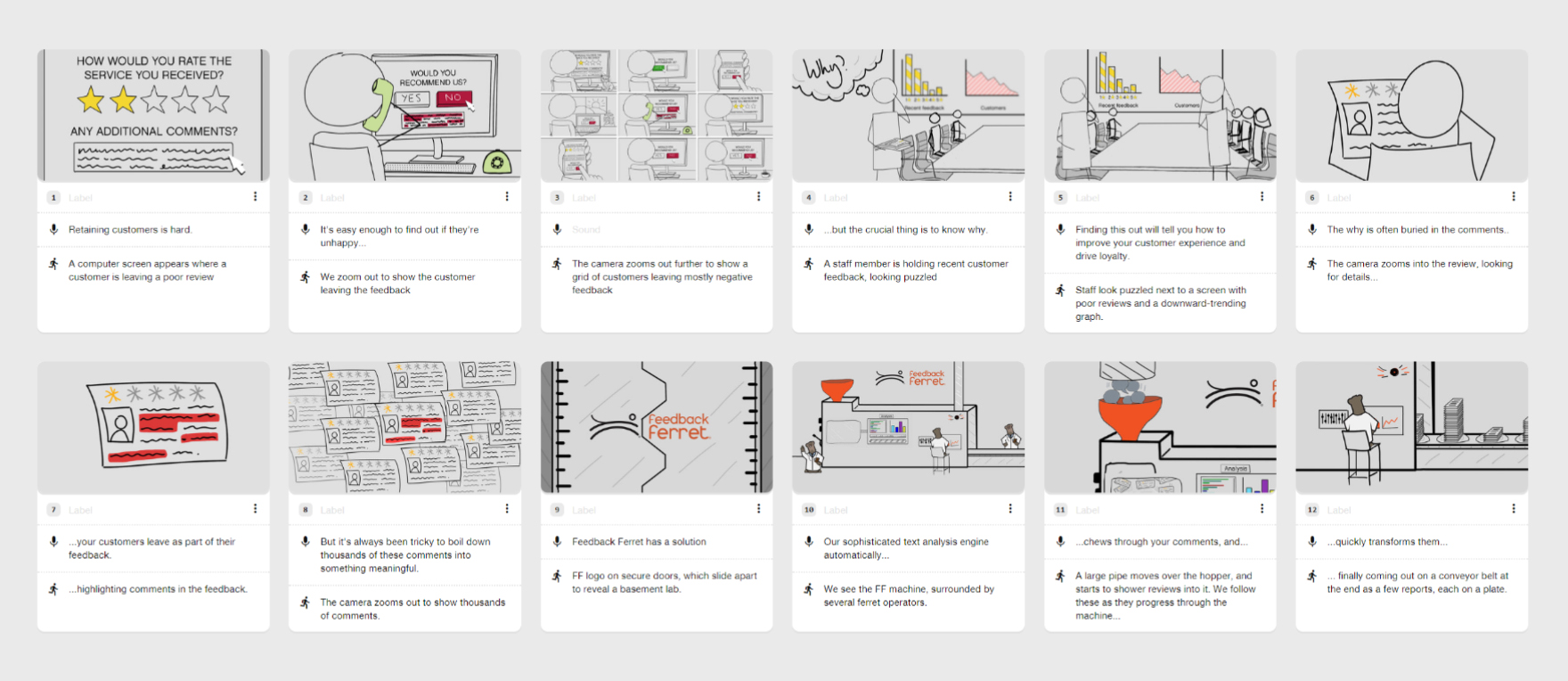 CHARACTER CREATION
Through the development of the script and storyboards, we realised that characters would be at the heart of the story, helping to unfold the narrative with a good sense of fun. We needed a lot of them too: a vast selection of customers, various staff members in a board meeting and of course… ferrets! Unlike animation that uses 3D characters, 2D animation requires brand new assets for each view of a character. Once the final vision of the ferret by GenerateUK was approved, we designed additional characters in a similar style to sit alongside them. The ferrets initially took many forms but the design was refined to appear more human like, allowing them to take on more of a specialist role within the video, whilst also interacting with the other human characters.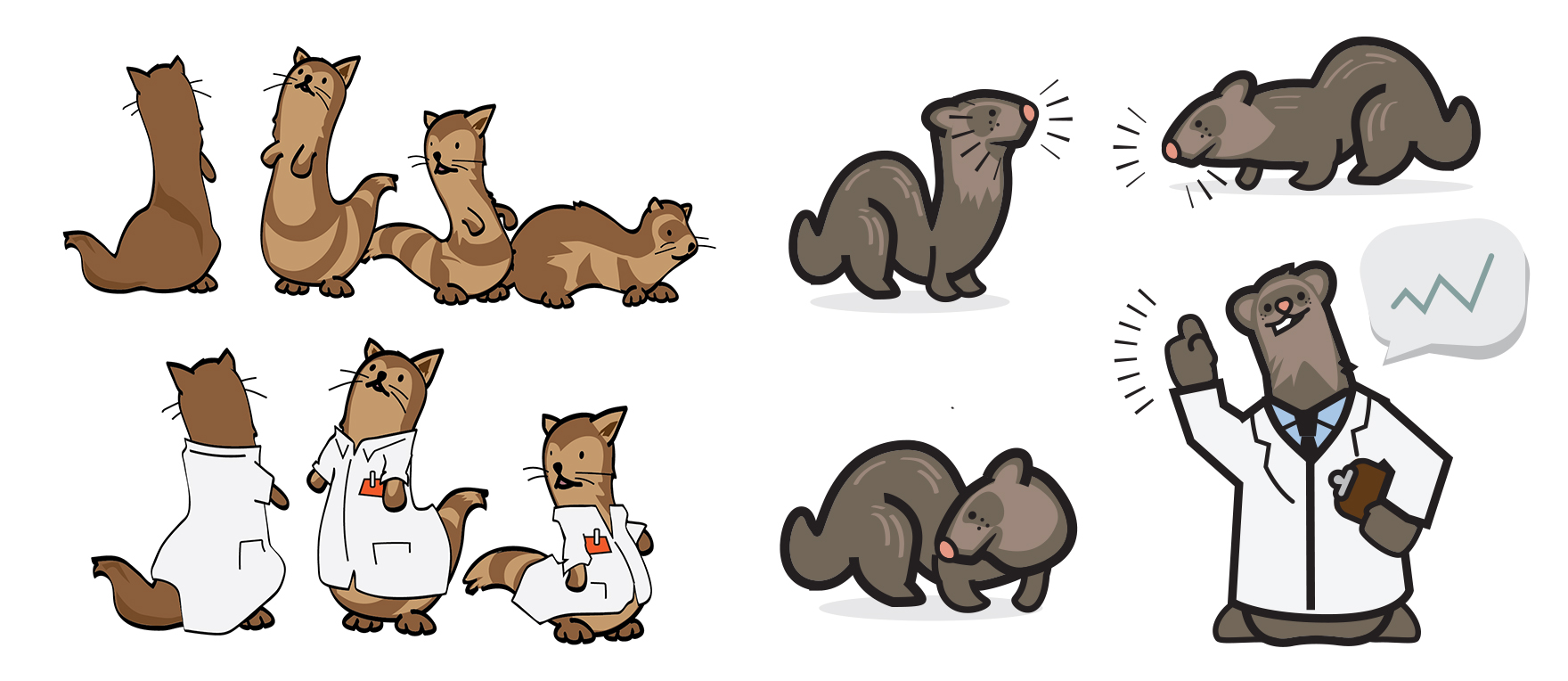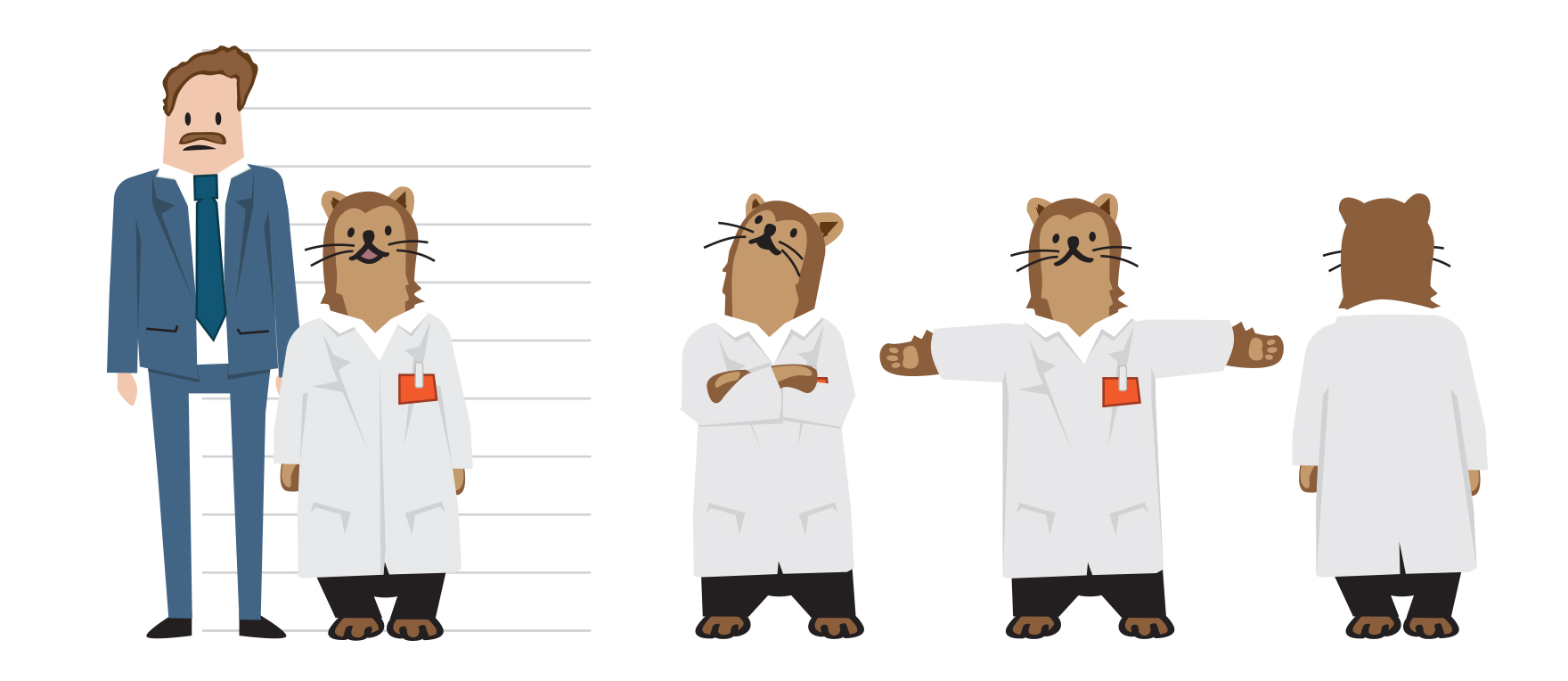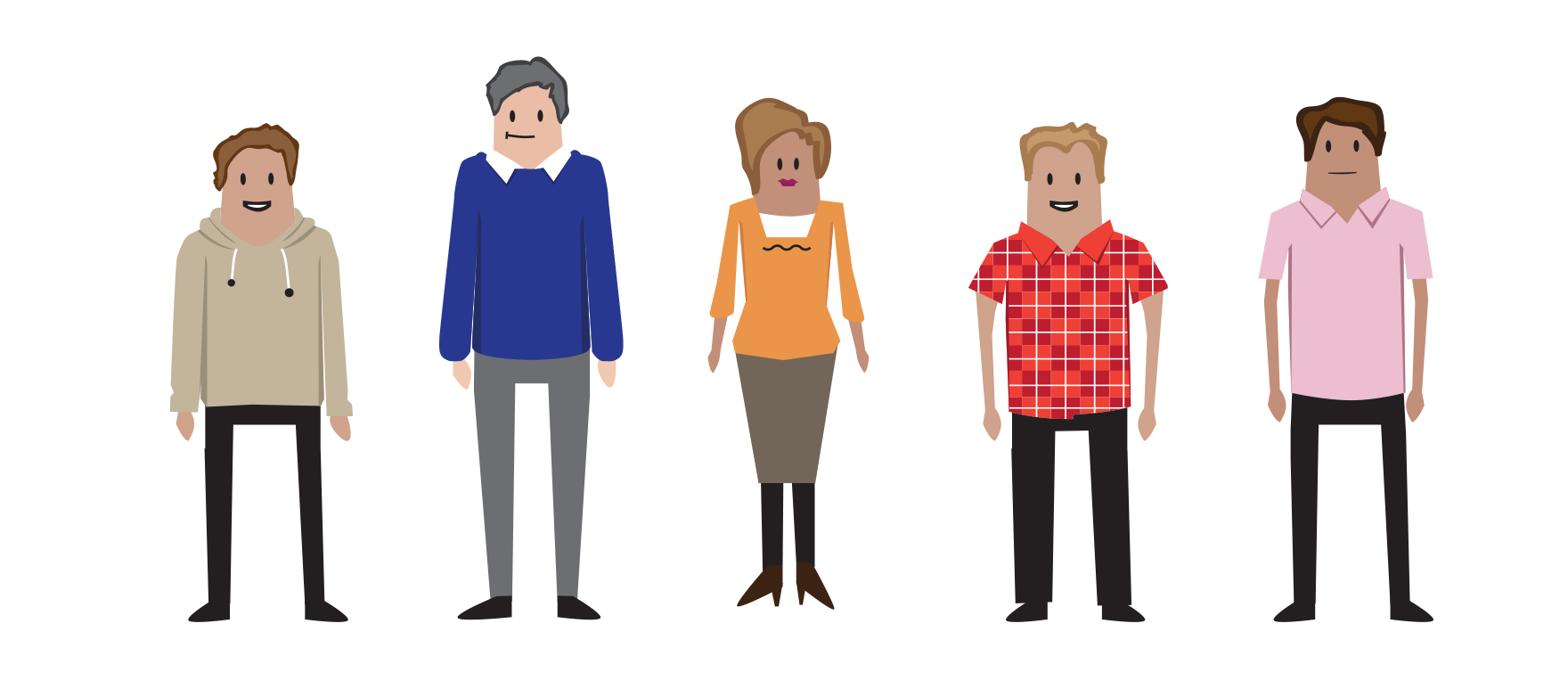 CHARACTER TESTS
After creating the range of characters, we had to figure out the best way to rig them. Our first task was to determine which elements were to be animated, avoiding time spent rigging unused assets. To test the rigging, we produced various tests to discover which technique would be the most effective. Rigging 2D characters in After Effects without any plugins is possible, but ultimately far too time consuming. We considered using Duik (by Rainbox), and Rubberhose (by Battleaxe) but after creating a few animation tests we decided to use Rubberhose for its ease and efficiency. We needed a lot of different arms from different positions and angles that we could easily customize. We also considered options for facial rigging, an easy task for the human characters but the ferrets required something a bit more complicated to give them more flexible movement. After some tests, we decided to use Joysticks and Sliders (by Mike Overbeck) to control the character's facial movements. The plugin allows you to create 4 different poses and then calculates the movement between all 4 positions to allow more freedom to animate. To allow for a little more control, we used Connect Layers for After Effects to control the head's rotation, as well as any vertical movements. We then rigged some of the facial details separately (including blinking eyes, mouth poses etc). We also added secondary animation to enhance the video, such as a swaying tie which had to be incorporated into the rig to be easily controlled when animating.
ENVIRONMENTS
The animation takes place in three separate environments. We started with initial rough sketches and then developed these by recreating it and adding more detail in Adobe Illustrator. We then dissected the environments into separate parts which were brought into After Effects and laid out in 3D space. Although the assets are 2D, we dissected the environments and laid them out in 3D to allow us to give each scene more depth by create a camera to move around the set more freely. A process commonly called 2.5D. When creating the Feedback Ferret machine, we had to consider many things – the machine had to be slick & powerful but also playful with enough detail to explain the workings of the feedback process. When designing the machine, the main influence and reference we used was the McLaren Technology Centre based in Woking, England. The factory has a nice clean, slick and hi-tech futuristic look which we wanted to incorporate into the overall design of the machine.